Diadora and Hanon together for a nostalgic collab
The Diadora Pallone d'Oro is back in the game
Italian sports brand Diadora turns 70 this year, and it seems that they haven't finished giving us surprises and new interesting collaborations. The last one is with the brand Hanon, that has also a physical store in Aberdeen, Scotland. The capsule has created a special version of Diadora 'Aberdeen' Anorak and also a reinterpretation of one of the most nostalgic shoes for the football retrò fans: the "Diadora Pallone d'Oro" shoes.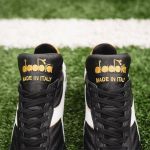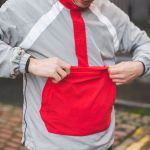 The anorak is inspired by the '80s football fans outfit and by the identity of Diadora, in fact the gray color is a tribute to the granite of Cereano di S. Marco, where the Italian brand was born and where the headquarters is still located, combined with white details on the shoulders and red ones, which colors the kangaroo zip pocket and a large side zip on the right side. The shoe is a jewel, nostalgia and a lot of football tradition are recovered, but also one of the main characteristics of the original model, that is the quality of the upper, entirely made of kangaroo leather, combined with an indoor football outsole. The logo in white is highlighted on both sides of the shoe and repeated in gold on the tongue, unite to the original "Made in Italy" tag line, recalled from the OG football boots. The one on the heel is white, with colored details and an Italian tricolor.
The attention to detail is obsessive, even in the box and in the insoles, removable and customized with the first letter and jersey number of three football champion, MV9, RB10, and GW9, Van Basten, Baggio and Weah. It can not be seen only as a futsal shoe.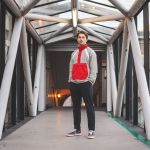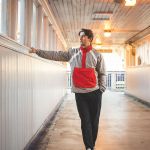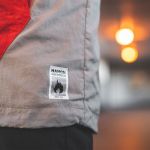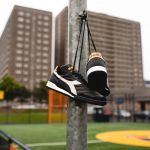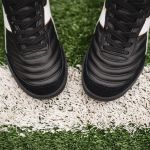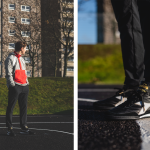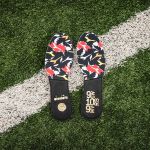 The HANON x Diadora 'Aberdeen' Anorak and "Pallone d'Oro" shoe will be sold only by HANON from December 1st, 2018 Via HANON LAUNCHES. Raffle opened on Monday and will finish Friday 30th of November.