7 GIFs to pay homage to KP Boateng
AC Monza is the new challenge in the strange career of Kevin Prince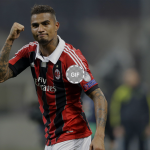 The big - and unexpected - jump to Barcelona, then an attempt at rebirth in Florence, and just a few games - 11 - at Besiktas. Now, surprisingly, AC Monza owned by Silvio Berlusconi. At 33, Kevin Prince Boateng became a new player of the Brianzoli team, this year back to Serie B after a 19-year absence but immediately focus to get to the top championship. Boateng is a champagne deal for a Serie B club, and in fact, it's a deal made by Adriano Galliani and Silvio Berlusconi, who first brought him to AC Milan in 2010. After a nauseating and continuous change of shirt - six in five seasons - the Ghanaian is part of a serious project of which the former AC Milan player will be the diamond and, moreover, it can give continuity to his talent.
To describe what Kevin Prince Boateng is or what universe he comes from, 7 GIFs can be useful. Images that are repeated endlessly, like the career of the footballer from Ghana, the eternal return of absurd blows interspersed with unexplained moments of pause. And it starts again. If it was not clear yet, this is the moment of absurd blows.
# 1 Bicycle kick, of course
Boateng back in Serie A and acrobats with Sassuolo's shirt, to remind everyone that Boateng is synonymous with acrobatics. If you have not seen each other for a while, it is good to remember old habits and the whole show staged. Just to refresh a bit 'the memory of those who had forgotten. But really someone had forgotten it? Black and white knows how to remember, but everything is so real, everything is so close.
# 2 Bumpkin essence
But that good bumpkin, which does not hurt anyone. Boateng is only boor inside, he needs to show his muscles because this makes him feel at peace with himself. If he did not tear his shirt off, Boateng could turn into some green superhero. Only Ibrahimovic manages to keep him calm, apparently.
# 3 Total brotherhood
You talk about Kevin Prince and you talk about Jerome too, about different choices and careers. From Ghana to Germany, occasionally (it was inevitable) they also crossed the field from opponents in Bundesliga. But when your brother can not take off his shirt, you have to help him.
# 4 That Lecce-Milan
On the 23rd of October 2011, Milan shouted one of the most incredible comebacks of the last few years, with the cry of "Boa, Boa, Teng, Teng, Teng". From 3-0 to 3-4, and the first three Rossoneri goals were all made by KPB. After recovering, the Ghanaian destroyed the game and rebuilt it in his own way. In his first goal there is all the Boatenghism applied: genius + unconsciousness + striking blow + anger.
# 5 Boa on the moon
A few months before these repeated bolides, Boateng to celebrate the Rossoneri Scudetto put on the moonwalk at San Siro, giving vent to all his creative / musical / boor side. Today he even published a song, while yesterday he was just making Christmas wishes like Justin Timberlake and imitating Michael Jackson.



# 6 Boa vs racism
Boateng is also one with whom you can not joke that much. Or rather, you can joke but up to a certain point, because for some things you get mad. And his level of pissing off when he hears about racism is the one who takes the ball and kicks it violently against a racist.
# 7 Masterpiece
The goal scored against Barcelona on 23 November 2011 by Boateng is like The Divine Comedy for Dante Alighieri. Flying hook, heel shot, knock on the first post and San Siro in delirium. The show made player.
Crazy stunt bonus
Because Boateng manages to be spectacular even simply standing up.