Canterbury accused of plagiarism for the English Rugby shirt
Umbro claims that the shirt was copied by an 2010 football design
On September 20, 2019, the ninth edition of the Rugby World Cup will start, taking place for the first time in history in Japan. In these days the various nations have begun to reveal the kits they will wear during the competition and just yesterday, September 24th, England has unveiled its own, a Canterbury signature.
Shortly after the presentation, the criticisms started to rain. The strong resemblance between the new Canterbury rugby national jerseys with the special edition, produced by Umbro and signed by Peter Seville, of the national soccer jersey released in 2010 has not gone unnoticed.
The two kits are really close to each other being a model only apparently disordered formed by the crosses of St. George, which according to Canterbury "draws inspiration from the 'white noise', the effect created by the sound produced by English fans cheering for the team. The design, which creates a direct and structured effect, uses a flag of St. George, which reflects patriotism and incorporates platinum and titanium colors symbolizing the strength of those metals. "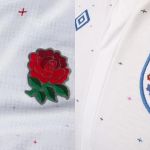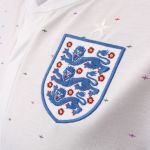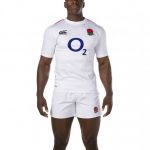 For now, no comment has arrived on the issue by Canterbury but instead Umbro retweet the first tweet by The Creative Review.