Keisuke Honda, the thinker
Life and miracles of one of the most underrated football personalities
In life there are people that slip through the events without any effort, in an instinctive and natural way and arouse admiration and a pinch of envy to those around him. Above all it seems that they never look back, that every time their look is directed exclusively to the future.
A complementary but somewhat opposite category, are those people who have the same ability to flow without excessive accidents, supported by a constant ability to think, a brain always in motion and always in the ball that finds, seeks and solves, learns and analyzes . Most importantly, they look back, in order to look at the future in a very precise way, according to their vision and their goals.
To this second category belongs without a doubt Keisuke Honda. Just make a feast of the classic highlights videos on YouTube to account; there's not a time when he's not looking around, trying to find the perfect passage or dribbling.
Honda is a thinker, on the field as in life, a reverse Marco Polo: starting from Asia during his career he has literally crossed all the continents. Asia, Europe, America and finally Oceania: he then brought the treasures back to his country of origin, and beyond. Then we follow the trail of his journey, from a stranger a prophet in his homeland to a philanthropist and coach entrepreneur.
Japan
Like all the great stories set during the 90s, even that of Keisuke starts with a videotape. He said, in this beautiful article written by himself for The Players Tribune, that one day the father brought home a VHS starring Pelè. He was immediately struck by the magic of the Brazilian champion, but in fact from an aspect that was not the pure fun and pleasure of football. As his father explained, Pelè played for personal enjoyment, but also to support his family, to rise from poverty to a better life. For Keisuke this becomes the main charm of football: the possibility of redemption from an anonymous life, if not just poverty.
It's not that sport was not in the life of the Honda family. His brother was already an avid soccer player, and some relatives had been Olympic-level athletes; despite this it seems clear that more than a vocation from pure talent and irrational love for the ball, it was a social and economic drive for little Keisuke. It is this great ambition that has supported him when on several occasions he failed the possibility of being included in the first team of Gamba Osaka, where he played in the youth level. In the end Keisuke manages to find space in Nagoya Grampus, still being a student, and he starts out in the J. League Division 1 in 2005, in which he will manage to achieve 105 appearances and 13 goals.
Already at the time the main feature was obviously his left foot capable of objectively incredible trajectories, as can be easily understood from this compilation by the wonderful name of "Young Keisuke":
In Japan, physical superiority with respect to its peers was also evident, a characteristic that was then resized once it passed to Europe. In the compilation above we also meet a very young Keisuke working with the shirt of his national team: the obsession to win a world championship with Japan was for the young Honda one of the main engines of his passion. The other was to get to play at San Siro with Milan.
Europe
Honda and his left foot became famous, so the first European call comes from Holland, specifically from the VVV-Venlo. Two years spotted by a relegation at the end of the first, with Keisuke that proves essential in regaining the Eredivise and ended the relationship with the team with a total 74 matches and 26 goals, winning over his fans.
Honda takes the difficulties of the first year very badly, takes charge of the relegation beyond the sporting value of the thing; once again football takes a back seat, it is the boy Honda who has failed even before the player. That boy has to grow up and become a man, overcome difficulties and continue his climb: in the reconquest of the first division succeeds in his intent, he also changes his game, starting to keep the ball a lot more to seek the goal with insistence: he's rewarded by the call to Russia, CSKA shore.
With CSKA Moscow Honda also debuts in Champions League, for another giving the victory to his team with the house specialty, a superbe free kick. This is perhaps the technical gesture with which the Japanese has become famous practically all over the world. Honda shoots the free kicks mainly by looking for the lap on the pole not covered by the goalkeeper, but often combines this (with incredible results) with a precise technique, the mukaiten, whose most famous user is probably Cristiano Ronaldo. It consists on hitting the ball in such a way that this remains perfectly still, without a turn, thus acquiring a great speed and above all an effect impossible to interpret for the unfortunate goalkeeper; watching it in slow motion is really charming.
In three years at CKSA Honda wins, almost always as a protagonist, two Russian cups, a Super Cup and also a championship. More importantly, the Japanese triumph in Asian games arrives in 2011. Honda is elected best player of the tournament: it will not be the world cup he fantasized about as a child, but it's certainly the most realistic version possible of that dream.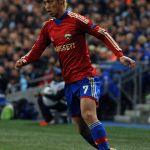 In 2014 comes the realization of another declared dream: Honda, released from CSKA, is hired by AC Milan and finally arrives in Italy. The relationship with our country is ambivalent, and it is perhaps here that all the qualities and limits of the Honda player have emerged. The little attentive remember him exclusively as inconstant, impalpable and slow, the enthusiasts to excess as a player misunderstood, by the superfine technique. Both are right: Honda in Italy (in what is perhaps the worst Milan in history, let's not forget it) alternates excellent performances with days when it does not even seem to have come on the field. Despite this, his personality never fails. He takes charge of the number ten shirt, his interviews are never banal and even in the field he does not abandon his principles, that play with his head held high and the incredible trajectories from that left foot that few can boast.
"I know it sounds like a monumental task - and it is - but, more than anything, I want to play a part in ending world poverty"
It's paradoxical that one of the players resembling less the romantic idea of ​​the football player, in particular a fantasy one, who has always taken the football field as an open-air office and always showed first of all his will to do his duty as a professional, meaning sport as a social elevator, is then so adherent in the way of playing to that idealized image of the number ten: the one with very good feet and a great game vision, compensated by an almost total lack of competitive spirit, running, almost as if he played to do us a pleasure, characteristics that obviously they end up making us fall irrationally in love.
Describing Honda as a thinker is only partly due to his pragmatic and at the same time creative approach to the playing field. In fact, since 2009 the Japanese footballer has immersed himself in parallel humanitarian projects, establishing during the Dutch years the Yume Foundation, which he defines as "a global initiative to teach the importance of having a dream".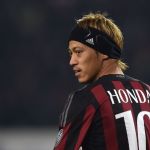 Providing scholarships to teens in difficult economic situations Honda tries to trace in some ways what it was his personal experience, pursuing a dream to have a better life. The proportions of the foundation, in the years evolved with other names, is mammoth: eighteen football fields in countries such as Uganda, Thailand, Indonesia, Vietnam and others; more than seventy help programs, more than fifteen thousand children followed all over the world. In the Italian years all this grows exponentially and we also begin to talk about it internationally. Honda, however, has not finished his journey yet; after a total of 92 appearances and 11 goals in all competitions with AC Milan, he joins the oldest team in Mexico, Pachuca, ready to continue the journey.
America and Oceania
At this point we could easily think that, given also the noble and interesting humanitarian projects, the transfer to Mexico is a little vacation in an exotic country at the other end of the world. Instead Honda still surprises, and in the only season played with the club marks some of the most beautiful goals of his career, becoming in no time an idol of supporters.
Here, too, there would be another opening: despite the fact that in Italy there is not a completely positive memory of it, probably linked more to the Milan corporate and technical moment than anything else, Honda managed to make itself loved wherever it played. Crazy blond hair will be in contrast with the clean face, the kind look but serious, the flashes of class that occasionally emanate from his feet or an attitude always respectful and professional despite the limits of his football, but this is also a small record; I do not know how many players can say that they have literally conquered on the field the esteem of fans on each continent existing on the face of the earth.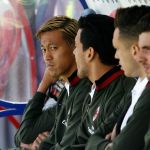 The journey for Honda has always represented a natural condition, to which it has been brought more by the desire to learn to raise more and more its humanitarian projects than by the football transfers.
This is why, after a good last world championship of Russia played with his Japan, he's hired by the champions of Australia in charge, the Melbourne Victory.
This closes the circle of Honda, which in the meantime has also become part-time coach of the Cambodian national team, a country where he already cares for football schools and scholarships for young people.
The size and the heterogeneity of events and movements in the life of Honda makes us forget that we are talking about a man of just thirty-two years old.
It is clear that, by his own admission, his dignified (with some pretty bad spikes) career as a footballer is now almost come to an end, but there is instead another aspect that can now be completely dedicated, that of the projects so far described that seem to become more and more extensive and ambitious, including an investment fund opened along with Will Smith. The goal he has now, declared by himself, is one, huge and scary: playing an important role in eliminating poverty in the world, using children's education as the main antidote.
We can not but cheer for him even more; we will see where his ambition, curiosity and intelligence will succeed in bringing him in this direction. Even if only partially succeeded in this, it would be an even greater magic than those unpredictable shots that have always started from his left foot.