The issue between Roland Garros, Serena Williams and the Nike "Black Panther" catsuit
"You can take the superhero out of her costume, but you can never take away her superpowers"
Roland Garros has decided that since 2019 Serena Williams will no longer wear her Nike "Balck Panther" catsuit on the playing field, judged "disrespectful" by the federal president Bernard Giudicelli. The man, interviewed by Tennis Magazine, said:
«I think sometimes we've gone too far. For example, Serena's catsuit will no longer be accepted this year. One must respect the game and the place. Everyone wants to enjoy the moment. This is why emotions are enhanced if they are carried by beautiful things in an equally beautiful place».
The US athlete, currently engaged in the US Open, who had opted for that outfit to facilitate blood circulation after postpartum complications, minimized the incident by declaring
«I think that obviously, the Grand Slams have a right to do what they want to do. I feel like if and when, or if they know that some things are for health reasons, then there's no way that they wouldn't be OK with it».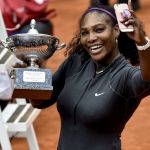 Williams also joked that he probably would not wear the suit anyway because he does not have the same look twice in fashion.
The coolest answer to this fashion controversy, however, is that of Nike, quoting Serena saying that the look had made her feel like the "queen of Wakanda" of the film "Black Panther" , he tweeted "You can take the superhero out of her costume, but you can never take away her superpowers".