Manchester City summer outfit by DSQUARED²
For the pre-season tournée in the US, the Citizens showed a very particular look
In the last years - you don't need us to tell you that - the football clubs' attention for their footballers' outfits has grown more and more. Not only on the pitch, where the technical apparel deserves a topic on its own, but also outside the pitch, where the clubs have searched partnerships with cooler and cooler brands, to present their players at their best even before and after the games. So, this year Manchester City brought the game to a whole new level.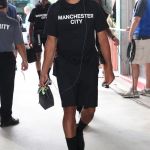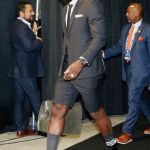 During the International Champions Cup tournée in the US, the Citizens displayed a 'total black' outfit branded by DSQUARED², the Italian brand that is collaborating with the club since 2016. To us, it immediately looked like the one worn by LeBron James during Game 1 of the 2018 NBA Finals, one of the many showed by the Chosen One and his teammates during these playoffs.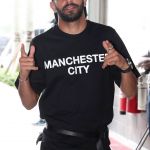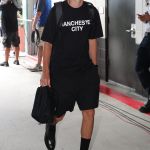 For the pre-season tour, Guardiola's boys worn a black suit made by a t-shirt with the "Manchester City" writing, shorts, crew socks, and black British shoes. A particular look, that got different comments on social media. Luckily for the Citizens and DSQUARED², the supporters of the blue side of Manchester are more interested in how the team performs on the pitch. And anyway, can you really imagine Agüero and his teammates with those suits in the cold Sundays in Northern England?