All the numbers of the World Cup's champions
From Deschamps' record to Giroud's performance through the talisman named Pavard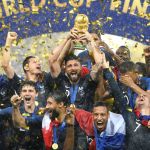 You already know everything about it, the French national team won the World Cup just played in Russia defeating Croatia 4-2 in the final match. Between Pogba who dabbed with Prime Minister Macron in the post-match, the delirium that took place on the Champs-Élysées throughout the night, the first page of L'Equipe and the acknowledgement of Kylian Mbappé as a symbol of a generation of young phenomena, we decided to let the numbers speak to analyze and explain this great success.
0
like the shots on targets made by Olivier Giroud during all seven games played by the Blues.
2
like the players who never made their debut, Alphonse Areola and Adil Rami.
3
as the coaches capable of winning the World Cup even by players: Didier Deschamps, Mario Zagallo and Franz Beckenbauer.
4
like the years that N'Golo Kanté took to move from Ligue 2 with Caen to win the World Cup.
6
like the Paris underground stations that have been renamed for the occasion.
14
as the goals scored in all the tournament: 4 each by Mbappé and Griezmann and one each by Pogba, Varane, Pavard and Umtiti.
16
as the trophies won by only 25 years old Raphael Varane: 4 Champions League, 3 Club World Cup, 3 European Supercups, 2 Spanish La Liga, 2 Spanish Supercups, 1 Copa del Rey and 1 World Cup.
19
like the years of Kylian Mbappé, the second teenager in the World Cup's history to have scored a goal in the final after Pelé.
19,34
like the millions of viewers who saw the final on TF1, recording an 82.2% audience.
20
like the years since the winning of the first and last World Cup, the home one of 1998.
25,10
as the average age of French players that played at least one minute in this World Cup.
31
like the matches played by Benjamin Pavard with the French national team, between Under 19, Under 21 and National squads, without any defeats.
58
like the duels won by Paul Pogba in this World Cup, more than any other midfielder.
292
like the people arrested throughout France on the sidelines of the celebrations for the victory of the Blues.
630
like the minutes played by Raphael Varane, the most used player by Deschamps.
423,000
as the Euro amount that every player will receive as the World Cup's winning prize.