Captain Tsubasa World Cup collection by Lobster and Lemonade
Finally, there's a release dedicated to the best anime in the world
In the hype that anticipated the beginning of the World Cup - and that still comes with every Russia 2018 game - there has been a proper tornado of collections somehow bonded to the most important football tournament of the world. And truth to be told, there had to be a Captain Tsubasa-inspired collection, as we're talking about the most famous football manga in the world, created by Yōichi Takahashi and known in Italy as Holly & Benji. Well, this collection exists and it has been made by Lobster and Lemonade, a German brand - from Darmstadt - that creates apparel inspired by the freshest styles and cultures of the world.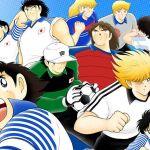 And even if it was created back in 1981, Captain Tsubasa has never left the football youth culture, confirming itself as one of the most long-living icons in the world football. To celebrate the World Cup, Lobster and Lemonade realized a series of six couples - tees + caps - dedicated to as many characters from the famous anime. Those are Tsubasa Ozora (Oliver Hutton), Kojiro Hyuga (Mark Lenders), Pierre LeBlanc, Karl-Heinz-Schneider, Juan Diaz, and Carlos Santana.
Here you have all the pieces from the Tsubasa World Cup Collection made by Lobster and Lemonade, that you can find at Store Asphaltgold, The Good Will Out and, of course, lobsterandlemonade.com.
Tzubasa Ozora - Japan

Kojiro Hyuga - Japan

Pierre LeBlanc - France

Karl-Heinz-Schneider - Germany

Juan Diaz - Argentina

Carlos Santana - Brazil