adidas' entire Germany collection is being discounted
After Die Mannschaft's elimination from the World Cup, the Three Stripes are gettin rid of everything
Yesterday night, about around 6 PM, panic and despair widespread through our country, once people started to realize that Germany just got eliminated from the World Cup. Among who celebrate without any scruple and those who hide their joy pretending to be above all that - but nobody believed that - there were also people who were truly afflicted for Die Mannschaft's elimination. That is the guys at adidas Football.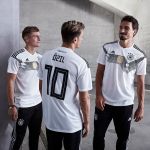 In fact, Germany was one of the biggest adidas-branded teams in the tournament and also the one that probably had the most iconic kit. Straightly after Müller and his teammates' defeat against South Korea, the German brand discounted the entire 'German' collection on its website for 48 hours, using by adding the GMNY30 discount code, that will allow you to save 30% off the collection. From the gameday jerseys - both home and away - to the pre-game tracksuit, accessories and various items, the entire Germany collection is already discounted. It's not clear if adidas will do the same for all the other branded team, that would include Argentina, Belgium, Japan, Mexico, Russia, Spain, and Sweden.
Start to hope for the best… or the worst, it depends.