EA Sports presents the World Cup update for FIFA 18
The free downloadable content will feature the whole tournament, all the teams and all the stadiums of the World Cup
Week after week, the attention of all football enthusiasts is focusing more and more on the upcoming appointment with the 2018 World Cup. And also EA Sports, the software house that produces the most famous football simulator in the world, is getting ready to the event by presenting the free update dedicated to the tournament in Russia for FIFA 18, that will arrive next May 29.
The update has been announced with a trailer that features the main testimonial of the whole 2018 edition of FIFA: Cristiano Ronaldo. The Portuguese teams up with other main actors of the World Cup like Isco, Griezmann, and Rashford - that only appear 'in-game' - that gets ready for their stuff to go to Moscow. This year, though, they will also take a joystick with them.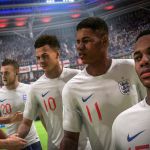 FIFA 18 new update dedicated to the World Cup will obviously contain the whole tournament with its format, all the participant teams, and all the stadiums. It will also feature special content for FIFA Ultimate Team, the mode preferred by hundred of millions of gamers. The World Cup update for FIFA 18 will be downloadable for free on all consoles starting from May 29.