Zlatan Ibrahimovic won't participate at the 2018 World Cup
The Swedish Football Federation confirmed that Ibracadabra won't came back with the team for the tournament in Russia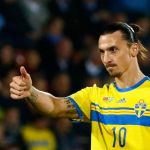 Among the many hot issues that are taking us in these weeks that anticipate the upcoming 2018 World Cup, there's the participation of one of the best and most charismatic players in football history. Of course, we're talking about Zlatan Ibrahimovic, that at 36 years old decided to leave European football to play in the Major League Soccer, debuting as we know he did with the Los Angeles Galaxy.
Officially, Ibracadabra has retired from the Swedish national team after the ruinous participation at the 2016 European Championship, when he announced his will to leave the Sveriges after 62 goals in 116 games, saying hello with a humble "I am Sweden". In the last weeks, though, Ibra left some important messages about this possible participation at the World Cup, also at the Jimmy Kimmel Live!, when he stated that "A World Cup without Ibra isn't' a World Cup".
Yesterday, though, the final word on the matter came from the Swedish Football Federation, that through its social channels confirmed that Ibra will participate at the World Cup next June, unless this is all a scheme to prepare the big return, but this is unlikely. Will it truly be a World Cup even without Zlatan?