"Brothers of the World" E06: Capo Plaza
Told by the 'giovane fuoriclasse'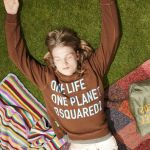 In the last few days, we've been telling you about Brothers of the World, the campaign made by Nike Football dedicated to Milan and the international vibe of the Italian city, and what it means to its protagonists: Mauro Icardi, Sfera Ebbasta, the Slam Jam team, and many others. Today is dedicated to Capo Plaza, the young rapper born in 1998 that is part of "Sto Record" stable. After becoming a Gold Record with "Giovane Fuoriclasse", Capo Plaza - actually called Luca D'Orso - gets ready to launch his new album. But before that, he tells us what "Brothers of the World" means to him.
"To me, Brothers of the World means to reach every kind of person with my music"
Brothers of the world is the Nike campaign that tells the contamination between football and the city's street culture through workshops, exhibitions, short-movies and football players. This short movie is the sixth episode of a series that you can follow exclusively on nss magazine.