Wilson honors Roger Federer with $20K limited edition tennis set
The tennis rackets producer wanted to homage one of the biggest tennis legends of all time
In the last days, people have talked incessantly - with right - about Roger Federer, capable of conquering his twentieth career Slam in the Australian Open final on Sunday. To celebrate King Roger's amazing success, arrived at 36, the tennis rackets producer Wilson wanted to realize a super exclusive set, perfect for the Swiss tennis player's hardcore supporters.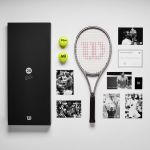 Available in just 20 units, this set comprehends a series of memorabilia about Federer's career, like: a series of mini-posters representing King Roger's celebrations during particularly important victories of his career, an USB stick loaded with more pics about the Swiss champion, a Wilson Australian Open tennis ball, and a Platinum Edition Pro Staff Racket, both signed by Federer. The entire set is presented in a premium numbered box, featured with the certificate of authenticity. The price? Somehow, that is also dedicated to the player, as the $20,006 USD of the prize is a reference to 2006, the year when Federer conquered three of the year's four Grand Slams.
Head over to Wilson's web site for all the details. However, you won't be able to get your hands on the set: despite the price, all 20 packages have already been scooped up.