Socks, Nike and NBA
Seems that Steph Curry and James Harden are engaging a socks battle against Nike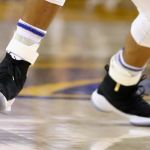 Back in 2015, the NBA and Nike signed a massive $1 billion eight-year partnership that went into effect at the beginning of this season. As part of the deal, Nike is now the official uniform/apparel provider for the league, and the first brand to have its logo appear on all NBA jerseys. After the starting enthusiasm, many problems are emerging regarding the new jerseys: they rip too easily, they do not drain properly the sweat and some design and colorways are highly criticized. In the deal is also included the sock's production and it seems to create issues. The problem with the swoosh on the socks is that it is awfully close to the shoes, a big source of endorsement revenue for NBA players. And Stephen Curry and James Harden, two of the NBA's biggest stars, apparently don't want the swoosh anywhere near their non-Nike sneakers.
Golden State Warriors guard and two-time NBA MVP Steph Curry has a contract with Under Armour, so he folds the top of his socks over to hide the Nike logo. James Harden, who is the NBA face of adidas, previously rolled his socks down in a similar manner to Curry. However, he appears to now be going to the extra length of just cutting the top of the socks off and removing the Nike logo altogether.
According to Business Insider, there's no rule in place to prevent an NBA player from rolling down their socks, so Curry won't face any punishment from the league office. But Harden has been cutting his socks, so he may not be protected by the same rules.