Pep Guardiola x Maurizio Sarri fashion show
Tracksuit vs slim fit: the outfits of these two managers explain perfectly their personalities
After two weeks of waiting, Maurizio Sarri and Pep Guardiola will face each other again tonight at San Paolo in Naples. The sports press love to write about this two coaches, doing acrobatic comparisons with the two teams with titles like "the old disciple is challenging the young master". If it is true that their bases of football look alike, in one thing these men differ completely from each other: fashion. Sarri is a true supporter of the tracksuit, Pep is a fashion victim making his bench the fanciest on the planet, a fashion clash that more about these two great personalities than their teams.
Maurizio Sarri: politic sportswear

Sarri's collection is composed by a singular look: the Napoli's tracksuit. He joins the great legacy of managers-that-wear-suits that recalls the suburban football. The brightest Italian example of this legacy was Francesco Guidolin, followed by Carlo Mazzone and the last Zdenek Zeman, that with Sarri shares also the passion for nicotine. In the rest of Europe, the only manager that is still on the 100% polyester's side is Jurgen Klopp in Liverpool. But all these coaches wore suits for different reasons: Guidolin because he was trying to avoid a psychic collapse, Mazzon for ignorance, Zeman because he gave up, and Klopp for the personal branding of the gegenpressing. For Sarri instead the suit - in addition to solving the problem of "what am I gonna wear this morning?" - is a politic gesture. After the ejection against Milan in 2006 he said:
It's easier to eject a man that is wearing a tracksuit rather double-breasted coat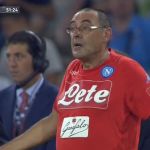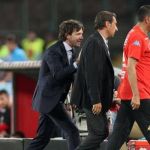 Napoli sponsorship during the Sarri's era is Kappa and Macron. The two Italian brands are still bounded to the provincial football and the design of their tracksuit mirrors it: the cut is simply and wide, the sponsor are oversized and ugly, there are no fancy details while adidas' and Nike's one are full of them. It's perfect for Maurizio Sarri and this outfit tells how he sees the world. He hates labels and he said "I'm a coach, not a model" a different vision from Max Allegri that once said that he would "fine coaches without suits on the bench". Politically, Sarri is lefty - sometimes the press calls him "communist" with intolerable superficiality - and the tracksuit is the only visible hint of his political beliefs. His father was a partigiano and professional cyclist till the age of 25 when he started to work as a laborer in Bagnoli. The values of work and strain are bounded in Sarri's personality since his late debut in Serie A at 57. His quotes speak less than his tracksuits but they are useful to understand of much he doesn't care about appearance. Once Sarri was asked why he wasn't wearing any social campaign pin, he said:
"I dont join these cause beacuse I think that in a civil country the state should takes care of cancer research and SLA, not the football world"
His directness in the statements is most of the times too clear and reveals that his indifference to the apparel sometimes must meat a boundary: I'm thinking about the time he called Mancini "faggot".
Pep Guardiola: the sporty chic perfect manager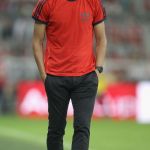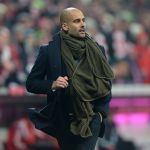 Pep Guardiola changed forever the contemporary football with his phenomenal tactic, but his revolution was often misunderstood and told in the wrong way. As every revolution, it tends to be told as a struggle between weak vs strong, but instead, Guardiola's revolution was an elitarian battle that changes the world from the top, like the Facebook's digital revolution. And indeed he looks more like a cool Silicon Valley manager rather than a warrior from Chapas. He always worked - differently from Sarri - in super professionalized environments: first in his Barcellona, later in Bayern and recently in Manchester City. Many players (ibrahimovic, Mandzukic, Dante) complained about his lack of humanity with players.
His wardrobe mirrors his cold approach to the profession: just the coolest stuff - not even a single grain of dust from a suburban pitch - his style looks like an expensive and fancy H&M. Pep is also different from the majority of great managers around, people like Wenger, Capello or Sacchi, master on the pitch and strict followers of the societal apparel. Guardiola doesn't want to be a white collar of the football so he never gives up on his style made of slim fit suits, hipster t-shirts, and skinny jeans. In Europe, just Mourinho as the same approach on clothing - more macho and less cool I would say - and now the starlet of German football Julian Nagelssman is trying to copy Pep with Korean shirts.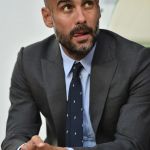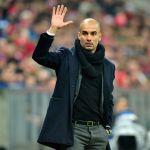 Pep recently exported his cool style across the Channel where elegance is a unicorn on the pitches. Pep fascinated the tabloids with his slim ties, his oversize scarf and black turtleneck inspired by the Apple's clean minimal taste. His style tells also that he is really aware of his position in the world, like when he was still playing dominating midfield across Europe. He's the manager of the largest multinational industry of football, his (ugly) brother he is a very important football agent that facilitates the acquisition of Girona by the City Football Group and his sister - Francesca - was for a long time the foreign relationships responsible for the Catalan's government. Also, Pep was really supportive of Catalan independence, but at the same time, he's clear that he belongs to the elite on the top of the world, a global citizen that shapes the future of the world one turtle-neck for time. He said he would retire in a few years, that football is not his only horizon: I hope he would open an apparel line or design in collaboration with Elon Musk.