The sponsor of the year
Everton won this tilte for the 2017-18 season, hands down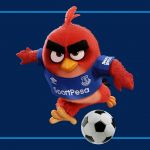 The sponsors on football jerseys are part of the charm of the product. In the history of football, there were legendary sponsorships, others that were discussed and some crazy ones. The award for the most bizarre sponsorship of this season goes to Everton: on Sunday they presented their new sleeve partnership with Angry Birds, the notorious app game.
Everton will wear the Angry Birds logo on the left sleeve during all games of the season. As with other clubs in the leagues with sleeve sponsors, the standard league patch will continue to feature on the right arm. Launched initially in December 2009, Angry Birds has become a worldwide success and even managed to create a quite popular movie spin-off recently, generating approximately 350 million of dollars at the box office. 3.7billion game downloads. The partnership with Rovio Entertainment, the Finnish-based company that owns the app, will open a range of marketing opportunities to new global audiences for both parties.
Sleeve sponsors are news in the Premier League: this season was the first one where clubs can sign an extra partnership and place sponsors on the sleeves. Unfortunately, because of the disastrous beginning of Everton's season - after a summer market with more than 300 million invested - has attracted Twitter's irony.