Euro Social GVNG unveiled its latest drop, "Wild Bandana"
The latest jersey from the Italian collective has been made in collaboration with the Genoese crew
There's no rest for the guys at Euro Social GVNG, which after releasing the "Orange County" jersey with Tedua, and the "Fly Codeine" jersey with Sfera Ebbasta, teamed up again with the Ligurian rapper and other members of his crew. Their last drop, in fact, which will be available from the next July 28, is nothing more than the Wild Bandana official shirt, the crew that other than Tedua himself, can count on Vaz tè, Ill Rave, Izi and Sangue.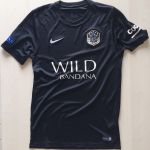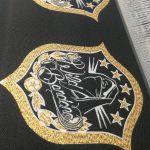 In the design, revealed today, the main thing is the black background, other than the Wild Bandana team's official crest, a mix between the original crew logo and the crest of the Brazilian national team, with the five stars representing each one of the crew members. The white Nike logo and "Wild Bandana" writing completes the frontal part of the shirt.
The new Euro Social GVNG shirt, realized in collaboration with the Wild Bandana crew and designed by Matteo Caputo (which we heard before) will be available from July 28 at ESG online store.