Nike Football unveiled Barcelona new away kit
For the Blaugrana there's the return of the vivid blue coloration, already seen in some kit from the past
After adidas' forehand, it quickly arrived also Nike' backhand. But this give-and-take has nothing to do with tennis because after the presentation of AC Milan new away kit by the Three Stripes, it has arrived the one of Barcelona new away kit for the 2017/18 season, of course, made by Nike. For the new production of the Swoosh, there's the return of the light blue coloration, already seen in the past on Catalan's away kits.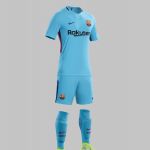 On the shirt on which will make its debut the new 'Rakuten' main sponsor - a Japanese e-commerce site that will pay around €55 million per year to the Blaugrana - there's a complicated geometry in Flyknit fabric, that will improve the shirt's fit, making it adhere to athletes' body. Just as important is the fabric, made by Nike using recycled plastic and polyester. On the aesthetic side, the vivid blue is the dominant color, with the red and blue - or better, the Blau and Grana - that decorate the kit in several points, like the necklace, the sides of the jersey and the shorts, and the socks. The "Forza Barça" writing has been separated and printed on the inner sleeves.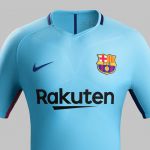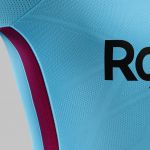 The new Barcelona away kit for the 2017/18 season is already available on nike.com and selected retailers.