Angelo Trofa x FIFA 18 Icons Team
The designer collaborated another time with EA Sports for the realization of the Icons kits
A few months ago, we had a long talk with Angelo Trofa, a very talented designer with the passion for football and, in particular, kits and uniforms. Among the many things we discussed, there was his collaboration with EA Sports for the realization of the FIFA 17 Legends team's kits. And as in these very days, the software house presented the new chapter of the most famous football video game in the world, we asked ourselves if Angelo would've been called for another work in the kit design. And of course, he has.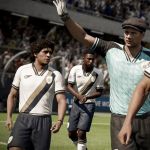 Hi Angelo, congratulations for another amazing work with FIFA 18. What's the feeling for a football enthusiast to be able to work for such an important game, that we all played hundred of hours with?
Many thanks. It's really cool, I played the game a lot when I was younger so it's great to see my work on it. Back in the 90s, you were able to customize the kits, so I would spend many hours doing this, so working on this project really took me back to being 10 years old again.
This year, you designed the uniforms for the FIFA Legends team. Do you want to tell us something about these jerseys, your inspirations, and processes of creation?
I worked on the Legends kit last year, which is what the Icons team has now replaced. With that design we kept it much more classic, trying to make a kit which could work in a few eras of football, representing the fact that players in the team were from the 1950s to the modern day.
For this Icons kit, the 90s was definitely a big reference point, that style of collar was very popular at the time. Almost every team had it, the Juve's Kappa, Real Madrid's Kelme, and Nike '96 templates all had a collar in that style, It's since disappeared. I don't know if it's my age, but I look at that period as a golden age of kit design, so wanted to capture that feeling with these kits. Luckily the ultimate 90s player Ronaldo is the face of the team, so that worked out perfectly!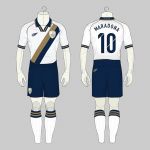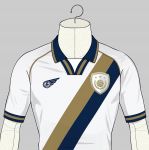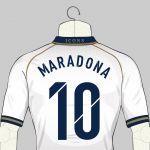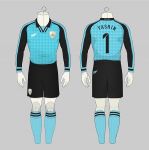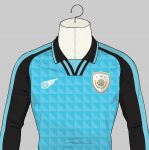 As this is already your second collaboration with EA Sports and FIFA, do you think there will be an occasion to work even deeper in the game design in the future? Would you like it?
Hopefully, in the video game world, the possibilities are endless, so I'm sure there's lots more that can be explored. I was pleased that EA asked me to collaborate on this again, the design process is great as they are really open to ideas. The fact they are getting outside designers to work with them is fantastic.