The debut of the Under Armour Curry 4
The Golden State Warriors' superstar wore his new signature shoes in the first two games of the NBA Finals
Steph Curry is living a fabulous start in the NBA Finals, not only for the impressive statistic averages on the field and the 2-0 lead against the Cleveland Cavaliers but also for the awaited debut of his new signature shoes, the Under Armour Curry 4.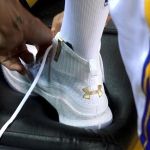 The Golden State Warriors superstar, in fact, differently that what he has done on the United States parquets, hasn't managed to wear a pair of sneakers truly beloved by the fans, that instead have always commented the previous models with irony and sarcasm. The Under Armour Curry 4 want to break the bond with their past, proposing a completely revolutionized design that - at least they hope in Baltimora - will make them more remarkable for the two times MVP's fans.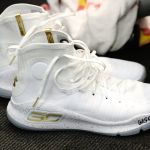 The new Under Armour Curry 4, that keeps a high-top structure with emphasis on ankle support, will be wore by Warriors' number 30 for all the Finals and will be available for purchase in mid and low cuts later this fall.