Shoe Gaze, Neal Heard's documentary about sneakers
Neal Heard visited the Northampton Shoe Museum, looking for all the lost sneakers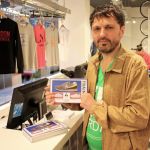 We live in a Retromania era. To quote Simon Reynolds, we got an addiction to our own past. The sneaker world is not an exception. Even on nss sports there're a lot of news about reissues or celebrations of old trainers. But have you ever wondered where did all the old sneakers go? Or where are all the thousand of forgotten kicks that will never see a reissue? The answers to these (crucial) questions can be found in a small town, about 100 km north of London. A real lover like Neal Heard traveled to this place for all of us.
Neil (with the help of the UK rapper Burgundy Blood) visited the Northampton Shoe Museum for the first episode of his documentary "Shoe Gaze". The museum is a real gold mine with more than 1500 pairs of sneakers and Neal Heard illustrates the story of famous and hyped sneakers like Air Max 95 but he remembers the forgotten shoes too.
Also, the soundtrack by the Bandacamp group HashFinger is pretty gorgeous.

Photo via Kicks to the Pitch