Maradonapoli, the new documentary about Naples and Maradona
It is out today a new movie that tells about the relationship between Diego and the city through the words of its people
A unique relationship, visceral, almost maniacal, the one that brought together and still does it Diego Maradona and the city of Naples. A relationship that was told, depicted, illustrated on the wall of a city that could never forget.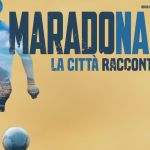 This is what "Maradonapoli" tries to do. The new documentary shot by Alessio Maria Federici and ideated by Antonio di Bonito, Cecila Gragnani, Jvan Sica and Roberto Volpe, wants to tell this story from a unique point of view: the one of the Neapolitans. «Walking around Naples you can see Maradona everywhere, for this reason, we wanted to apply this kind of sociological approach: why this figures entered so much in the sacral tradition of our people?», said Sica to the magazine Goal.


The project will last only 10 days and is not casually be released this year when will be celebrated the 30th anniversary of Naples first Scudetto.