Carhartt WIP celebrates Axaj with a commemorative jersey
The American brand celebrates the Amsterdam local store's opening with a tribute to the Lancers
It's been just a few weeks and we already have to record a new homage to Ajax, the most beloved, historical and awarded club in Holland. After the Patta x Umbro collabo, in fact, it comes another commemorative shirt by Carhartt WIP, that celebrates - alongside with a collection also made by other items - the Amsterdam local store opening, with a jersey that recalls a football shirts in its every aspects and is clearly inspired by Lancers' away shirt.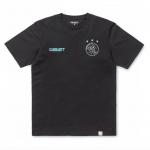 The desing is very similar to a real football jersey's one, with the backside of the t-shirts occupied by a name, in this case the brand's, and by a number - the 99 - that is Utrechtsestraat's street number where you can find Carhartt's store. On the front, there's another brand wordmark with one of the jersey's most interesting features, a reworked Ajax's logo. Aiace Telamonio - Telamonian Ajax in english - mythological figure has been softened with a hat and a cigarette.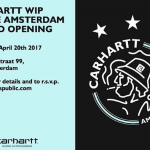 The shirt will be available for purchase only on Carhartt local store in Amsterdam, during the shop's opening party. If you're in the surroundings, you just have to go to the 99 of Utrechtsestraat from 6 to 9 PM.