Arrigo Sacchi and the 90s aesthetics
Kappa, Diadora, Reebok: we have choosen some iconic pieces from Sacchi wardrobe
April the 1th of 1946, Fusignano, Ravenna. In that day was born a boy who will change forever the history of Italian football: Arrigo Sacchi. Arrigo Sacchi. The war is over and Italy is in its economic boom, so the young Arrigo falls in love with football and start try to play, with ambition, but without any great results. It seems that in one moment, he think to quit football, but he then came back, and become a coach.

Arrigo Sacchi changed football shocking it from its fundaments, revolutionising the way to even understand it. And he did it in during the period football started to become mediatic, during the golden 90s of which the Sacchi style is a perfect exemplification. The Berlusconi rising, the AC Milan with Van Basten and the big money.
With the returns of the 90s soccer aesthetic, we decided to pay homage to the Sacchi birthday choosing some of his clothes from the 90s that could be proposed today.
Reebok sweater
With the loss of the sponsorship dealing with Liverpool, Reebok seems to have lost its touch with the football world. At the end of the 90s , the American brand invested a lot into football. When Arrigo Sacchi went to Madrid, to manage the Atletico, found a beautiful kit that could be useful to Gosha.



Kappa Kontroll / Milan Edition
Many times we talked about Kappa and its egregious work of redrawing from its archive and football inspirations. The triumphant Milan history of Arrigo Sacchi was partially sponsored by Kappa, with triacetate sweater and jersey.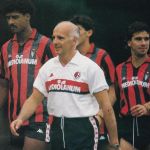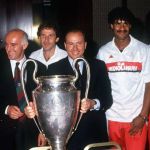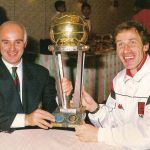 Italian National Team
Sacchi was also the coach of Italian national Team during its most hard delusion: the USA World Cup of 1994. In that occasion Italy wore a Diadora jacket that was recently proposed by Diadora in its lookbook.