Kendrick Lamar talks about Westbrook and Durant in his new song
Compton rapper enter in the newest NBA feud side with Russ and charging KD in "The Heart Part 4"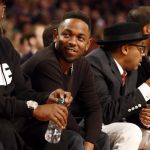 The most important rapper of our generations is back. Kendrick Lamar announced and released the forth part of "The Heart", also claiming the release of a new album on April the 7th. Lamar is never banal, and every time he sang he increase his level, grabbing the attention of the public and the media. His influence is strong also in NBA, where we saw many times Lebron goes crazy for his music.
On "The Heart Part 4" Lamar talks about different topics: a diss to Drake, a violent rant on Donald Trump but also an opinion about one of the most talk NBA issue: the relation between Russell Westbrook and Kevin Durant. Durant is cited in two verse:
Oh I was just playin' with you K-Dot, c'mon
You know a nigga rock with you, bro
Lamar is far more explicit at the end of the verse two, when he say:
Tables turn, lesson learned, my best look
You jumped sides on me, now you 'bout to meet Westbrook
Go celebrate with your team and let victory vouch you
Just know the next game played, I might slap the shit out you
Technical foul, I'm flagrant, I'm fouled
They throwin' me out, you throwin' the towel
The King is back, but this is not a good news for KD.