Discovering Football Concierge by Nowhere FC
We spoke with the Newyorker collective to know something more about their Kickstarter campaign
Many times we talk about (and whit) football clubs that tried to mix in a perfect way the football world with the one of fashion, art or design. Among the leaders in this particular sector there is for sure Nowhere FC, a Manhattan-based collective.
Few days ago they launched a Kickstarter campaign to fund the fifth edition of Football Concierge, an annual show of football and art. For the first time, in fact, the show will be independent, and so we reached them in order to know more about it and about the campaign, that you can fund here.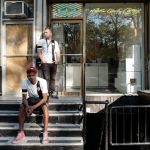 How the Football Concierge project was born?
The Football Concierge began in 2014 in anticipation of the World Cup. We didn't have a chance to go to Brazil, so we thought why don't we make a fake, vintage Travel Agency and bring Brazil here ? So we built out a popup next to our pitch, Lions Gate Field and booked appointments to come and make a jersey with us. We booked game viewing parties at our favorite restaurants and hotels around downtown NY and Brooklyn and the Football Concierge was the central promotion house to outfit the supporters with custom gear and direct them to each location as the party moved each day through the tournament.
You were among the first to mix football and fashion in a unique way. This trend is now consolidated. I think this is great for you...
Thank you. We just enjoy testing and pushing the boundaries, asking questions and trying to find new solutions to familiar challenges. We think Football and style have always been connected, hopefully we can be the leader of our generation, which is expressing their version of football and fashion in their own way. We are proud to be a part of that interaction. It's always a back and forth between us and the world. We react to the world and then hopefully the world reacts to us.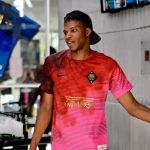 Why did you choose to give up a big sponsor and start a Kickstarter campaign?
The Kickstarter gave us a chance to activate our team and friends around the world to collaborate, and we also have a corporate buy-in donation as well, so the companies can still opt in and participate as well as we go along. We're looking for the keynote sponsor who can take the big package and have their logo placed into the mural and gallery at the time as show as well. So we're always open to work with visionary brands but this allowed the crew to start and be more organic and let them come in later, which is not the normal way to work with a sponsor but can work great.

Are there any anticipations you could give us?
We can't reveal the final art we'll use but the jerseys and their designs will be based on NY colors and heraldry, combined with a global texture. Those who sponsor the higher packages will get the option to work directly with us to incorporate their original art into the designs as well, for those who want to really leave their mark on the pieces and the show. It's fun to start a show and not have the final look locked down; we have a starting point, a map, and the collaboration process will he'll influence the design in real time as we go. We hope this gives a chance for our supporters to learn more about us and join us.