Football and social network: "Sabatini acquista cose"
Walter Sabatini and transfer market
There is a many-sided and mixed world around football. We can laugh about it – especially – or we can talk seriously using patois. We can place side by side sport to literature, cinema, going through food and religion. It would be almost sure a lot of different points of view or ways to describe the same object using various words, if we had supposed a starting point so articulate. Social network universe that looks at the football is huge. If we try to understand by ourselves it would be useless.
So we thought there is no better way to understand those words as asking about them to their creators, those who decided a special point o view, a clear choice of interpretation to talk about someone. We talked to "Walter Sabatini buys stuff" guys, Marco and Mauro – yes, m&m's. An ironic social page that understood by the way how the laugh sometimes is the best way to figure out a kind of thing, or to talk about something special.
Through dialect soccer report card in, joking on Iturbe and cigarettes – a lot of cigarettes -, we found the time to talk about politics, so to speak, but not the time to make a speech on Totti. More or less.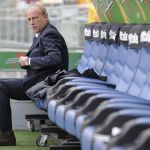 Starting from a basically question: why some football characters so loved, and romantic, use to smoke? This relationship with the cigarette seems to be different between Bogart's image – maybe just Zeman lives his tool in a noir way. But some people as Sabatini is, or Sarri as well, look like they have an instinctive link, as it was an extension of his arm.
Marco: cigarette gives to these characters bad boy look, a bit western movies. At the same time it makes them more human, media superstar – even being not players – show their weakness, they need to find some exhaust valve. About Sabatini is a basic profile, without it he wouldn't be the same, it helps to communicate his everlasting pain during sleepless night and ringing phones.
Mauro: Cigarette is pain for Sabatini. He lives every breath, every moment, as he was blowing from his cigarette. Zeman and Sarri as well. All of them are paining characters, always on thoughts. Probably smoke is the way to escape from Italian football stress. Zeman, Sarri and Sabatini are past soccer's heirs. Almost out of current age, a "cool" age. They stand for 80'/90' football. Few frills, more concreteness.

Roman dialect is basic in your work. We think is the weirdest language in the world because is the only one you start to speak a few minutes after you land in Rome. You can be Korean, Congolese or from Slovenia, after half of an hour you will start to say "Daje" or "che stamo a fa'?". (paradox is that Sabatini was not born in Rome, he is Umbrian).
Mauro: roman dialect is simple and direct. That's its beauty. Besides so easy to understand, so everyone can play with it. On Facebook there are a lot of pages that blame roman verbs to different characters. Sabatini is not from Rome, but that dialect was perfect for him. If you come to Rome you need to use some term or sentence. Ennamo!
Marco: more than basic is physiological, no other way. In real world, I swear, we are classy guys; but once we wear Warte dress we just get mad, we think in roman dialect, even if we want – and we don't – Italian translation would be hard and useless.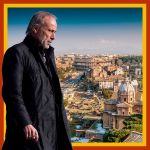 Stuck for a moment on language topic, you use it in pictures and posts, until report card after every single match – it recalls Johnny Palomba's cinematographic ones. We loved so much the one when Daniele De Rossi talks to Emerson Palmieri after he scores against Villareal.
Marco: Sometimes we look at some talking pictures, and so we just write what we think they are saying. De Rossi, for example, is the Rome' supporter crest. In that picture, after the game against Villareal, he just says what everybody thinks, I guess. Report card were born because we definitely need optimism: soccer is like that, in Rome especially, a lot of time to build something and just a while to destroy it. So it's better to joke on it, if some games go badly being sad is not the answer, so there is no nice thing? Just laugh.
Mauro: Adventure started with the pictures. De Rossi is from Rome, and it is so funny when you figure him out talking to a Brazilian guy using roman dialect. After a few months we also made report cards, just to try. Using just judges in roman way. Maybe that was people loved to read.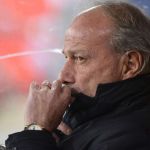 Iturbe's chapter. What's happened? Was he overrated, unlucky, maybe his moment is yet to come? How much was he useful for you?
Mauro: I guess all of them. Football in Rome gives a lot of responsibility. You have to have strong personality and patience. He also had the high-cost load. And maybe also the overvaluation due to the amazing year in Verona. Soccer is also this stuff. But he remains an idol, anyway. Maybe not on field. But about his adventures that we create for him. He looks like those comic characters, Japanese manga in nineties. Little, stocky, like Gigi the top in football. By the way his performances said he didn't we found something to laugh with him (not joke on him). Maybe is the best thing on page.
Marco: We were just unlucky with Iturbe, I don't know the reason. But right now he is a wonderful character, to great to put a-side o to joke on him. Let's say we adopt him, like a scared puppy we found on street and we brought to home. He is unique, so iturbized and iturbing…

Last year did you make the same with Dzeko?
Marco: honestly we always believe in Dzeko. As a lot of Rome' supporters we could not understand his last year performance, something against physics laws, space and time. He couldn't be that guy, who kick the ball on Gianicolese in the same way he put his shoes on. It was an investment, and fortunately this year he gives us right.
Mauro: we waited for him as we was waiting for the sweeties' uncle on Sunday at lunch. You are there, waiting for his greatness, after a long time without European striker, and you just can see someone who probably is Dzeko's cousin. Of course we laugh about that, also knowing he worth.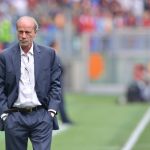 Do you think linking the gesture "to buy stuff" could be seen as the consequence of American consumerism and so coming from new owner?
Mauro: let's say yes... It is hard just to think something like this...
Marco: I take one cacio&pepe and a panned chicory, then it's up to you.

Too intellectual? Making simpler, do you think Sabatini is the only old school manager who showed himself adequate to the task?
Marco: I don't think so, actually. Warte is more like the house man who needs to make all the counts for the family: bills, food, cigarettes. He would not be at ease in some rich club as PSG is, for example, he doesn't enjoy his work. You have this feeling, when you talk to him personally, of someone who really loves what he does, then just better if the club's owner are happy.
Mauro: We guess Warte is the anti-capitalistic crest. We think he is that kind of person who is counting pennies on the table, selling two or three players on eBay, a couple he re-buy on vintage market, until the team is done. Maybe he is bothered with a lot of money. He cut and stitch, like an old granma.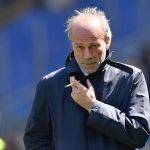 Try to describe "Warte" as mayor.
Mauro: Capital gain everywhere. Three fountains selled to chinese, a couple of fullback taken from Porta Portense, some square in common with Sassuolo. Rome's balance sheet tidy-up in twenty days.
Marco: Do you know monopoly? That's it. Warte is the one who change with you short alley and victory park and you are stuck thinking about your advantage. If he was mayor we have cleaned streets and estates better than in Dubai. Twelve tube lines and half fullback.

Tell us how the idea was born, when it took a shape, when you understood it worked. Tell us especially how much Lazio' supporters bother you.
Marco: Two years are gone. Basically we are cutups, our WhatsApp chats were warterizzate also before we start this work, we just don't know about that. We understood how much we laugh about that and we think to share all this happiness, it's always a positive thing. As you said we start using pictures (memes as young people use to say), then the report cards. We are still asking ourselves the reason why it works; let's say it is so funny but it hard work as well, less simple people use to think. But it is our achieve, even in bad moments we have moral commitment to satisfy people who read our page. We love community idea, a safe harbor where people can laugh.
Mauro: As Marco said the idea was born two years ago. Roma's market is become rippling. Sometimes not so good, but full of new players. It is like cards market. Four players are coming, two of them are leaving, one of them stays but half, one ho them you give him to me, one for you. It's a back and forth so engaging.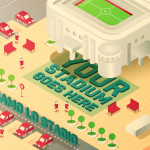 Do we make Rome' stadium?
Mauro: it is time to do it… Olimpico stadium has to retire. Beautiful, of course, but the we need to watch once again matches on tv.
Marco: of course we do...

Italian Scudetto or Champions league?
Marco: ugly question, it like to ask "better mum or daddy?"

Mauro: Europa league


Looking for every single player who play in Rome, someone Sabatini bought, who did you love more o see yourself?
Mauro: we dreamt about Ibrahimovic. He is a great player (thinking for a while just a minute Totti and Ibra together), but he also a special character, he would have had an endless success on Fb page, a duet with Warte in roman dialect. We grow fond to Ashley Cole. Great player, a real flag on page, he left an unforgettable sign. It's a pity he left so early.
Marco: bro how many questions? I agree with Mauro, just Ibra. Even now. Event three years since now. Before Ibra I am thinking about Van Nistelrooy, an idol. In my heart Lamela always will have a place, so paning seeing him to go away. Ashley (Cole) is like a brother with big Italo Zanzi, uncontested idols, someone has to think a tv series on them.
We did! We did not talk about Totti. A Daje! To encourage Florenzi?
Marco: About Francesco (Totti) everybody always talks to much and to little, we wish we could talk one more year. Florenzi? Ale is a too much important for Roma, cultural heritage need to put on him a restriction! Daje!
Mauro: Ale, hurry up to come back!