Save The Date: Off-White c/o Virgil Abloh @ B38 Club Milano
Let UPTOWN NIGHTS flash your night with Virgil Abloh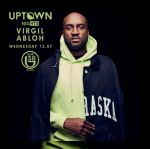 UPTOWN NIGHTS sees the light in 1998 thanks to Mohamed, a New York dancer and former member of legendary Rock Steady Crew, and Nadia Fullin, milanese promoter and art director. Together they want to create a new reality in the Milan's night scene - and they succeed in doing so.
Since 1998, UPTOWN NIGHTS animates the city's nights with exceptional guests, real authority in the global scene concerning music and fashion.
Tomorrow night, UPTOWN NIGHTS returns with a new event with OFF-WHITE's founder and Kanye West's creative director, Virgil Abloh, who will return to his DJ's origins for just one night.
What are you waiting for? Find all the information here.